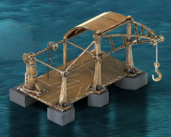 The dock is the building where you can acess, edit, re-name and scuttle your
fleets
. The dock is an important building for battling and exploring the ocean, as it is the only building that allows you to launch your fleets.
The dock must be placed on water. The dock costs 1,200 oil, 2,400 metal, 3,000 energy and 1,200 Zynthium to build. Upgrading the dock increase the maximum weight per fleet.
Each player can only build one dock.
Dock Statistics

| Level | Oil | Metal | Energy | Zynthium | Upgrade Time | Capacity | OP |
| --- | --- | --- | --- | --- | --- | --- | --- |
| 1 | | | | | | | 1 |
| 2 | | | | | | | |
| 3 | | | | | | | |
| 4 | | | | | | | |
| 5 | | | | | | 2961 | 2 |
| 6 | 188,732 | 377,463 | 452,956 | 188,732 | 2 days | 4619 | 3 |
| 7 | 519,012 | 1,038,024 | 1,245,629 | 519,012 | 6 days | 7206 | 3 |
| 8 | 1,427,283 | 2,854,566 | 3,425,479 | 1,427,283 | 7 days | 11,242 | 4 |
| 9 | 3,925,028 | 7,850,057 | 9,420,068 | 3,925,028 | 7 days 4 hrs | 17,537 | 5 |
| 10 | | | | | | | |